Modul AGILA: Agile Softwarearchitektur – mit Stefan Toth​
Kompetenzbereich Methodik:              20 Credit Points
Kompetenzbereich Kommunikation:  10 Credit Points
Trainer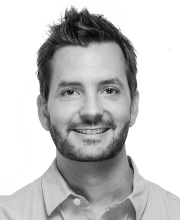 Stefan Toth works as a developer, software architect and consultant at embarc GmbH. His focus is on the conception and evaluation of medium to large software solutions as well as the connection of these topics to agile procedures. He is the author of numerous articles and the German book "Vorgehensmuster für Softwarearchitektur".
---
Im Rahmen des Workshops erleben Teilnehmende wie agile Prinzipien und Ideen auf Architekturarbeit übertragen werden können und wie man Architekturpraktiken sinnvoll und effizient in agilen Vorgehen verankert. Kleine Methoden, praktische Techniken und hilfreiche Sichtweisen werden im Rahmen des Seminars als Muster vorgestellt und an praxisnahen Beispielen erprobt. Insgesamt entsteht das Bild einer neuen Architekturdisziplin. Einer Disziplin, die sich nicht um den einen Architekten dreht. Die sich an Einflüssen aus Lean orientiert und gut in agile Projekte bettet. Einer Disziplin die Zielorientierung fördert und Pragmatismus großschreibt.
Die Inhalte decken sich mit denen des Präsenz-Trainings. Informationen dazu finden Sie auf der Übersichtsseite des Moduls AGILA oder im Lehrplan der iSAQB.
Sie bestimmen den Ort, an dem das Training für Sie stattfinden soll. Unser Trainer ist überall mit dabei. Genießen Sie die maximale Freiheit bei der Wahl Ihres Lernortes.
Technische Voraussetzungen:
Hinweis: Ihre Webcam muss beim Training eingeschaltet sein.
Tägliche Trainingszeiten:
Anmeldung
Kollegenrabatt: Bei gleichzeitiger Anmeldung von drei oder mehr Kollegen aus einem Unternehmen spart jeder Teilnehmer 100 €