Modul AWERT: Architekturbewertung - Softwarearchitekturen reflektieren – mit Stefan Toth
Kompetenzbereich Methodik: 20 Credit Points
Trainer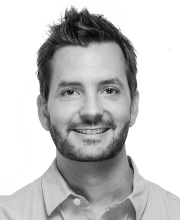 Stefan Toth works as a developer, software architect and consultant at embarc GmbH. His focus is on the conception and evaluation of medium to large software solutions as well as the connection of these topics to agile procedures. He is the author of numerous articles and the German book "Vorgehensmuster für Softwarearchitektur".
---
Architekturbewertung ist ein zentrales Werkzeug, um Sicherheit im Architekturentwurf zu gewinnen und um bestehende Lösungen oder Lösungsansätze fokussiert und nachhaltig weiterentwickeln zu können. Oder auch um sie informiert zu verwerfen. Vor allem fördert Architekturbewertung Kommunikation und Transparenz, richtig angewendet passt sie daher prima in ein zeitgemäßes Vorgehen. In diesem Workshop lernen die Teilnehmer elementare Techniken und Methoden kennen und anwenden, um Softwarearchitekturen zu reflektieren.
Die Inhalte decken sich mit denen des Präsenz-Trainings AWERT. Informationen dazu finden Sie auf der
Übersichtsseite
des Moduls oder im 
Lehrplan
 der iSAQB.
Sie bestimmen den Ort, an dem das Training für Sie stattfinden soll. Unser Trainer ist überall mit dabei. Genießen Sie die maximale Freiheit bei der Wahl Ihres Lernortes.
Technische Voraussetzungen:
Hinweis: Ihre Webcam muss beim Training eingeschaltet sein.
Tägliche Trainingszeiten:
Um einen reibungslosen Ablauf zu gewährleisten, ist es dringend erforderlich, dass Sie am 19. Mai 2020 im Zeitraum von 10:00 – 11:00 oder 15:00 bis 16:00 Uhr an einem kurzen Technik-Check teilnehmen. Bitte wählen Sie sich hierfür direkt über den Link, den Sie bei der Anmeldung erhalten haben, in Zoom ein und unser Support prüft live mit Ihnen alle technischen Einstellungen. Bei Fragen schreiben Sie einfach an [email protected]
Anmeldung
Kollegenrabatt:

Bei gleichzeitiger Anmeldung von drei oder mehr Kollegen aus einem Unternehmen spart jeder Teilnehmer

100,- €

!