Modul WEB: Web-Architekturen
Kompetenzbereich Technik:     30 Credit Points
Trainer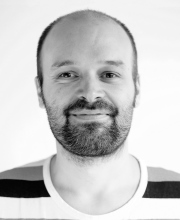 Till Schulte-Coerne, Senior Consultant at INNOQ, has been implementing web applications with various technologies and frameworks for several years. His focus is on the architecture and implementation of scalable, ergonomic web applications. Furthermore, he is co-initiator of the frontend architecture variant ROCA. He is a regular trainer for workshops especially on the topic of web architecture and web frontend technologies and has also written several articles on this topic.
---
Lucas is a Senior Consultant at INNOQ and deals with the architecture, design and implementation of web applications in front- and backend. He programs in Ruby and JavaScript and helps decide on different NoSQL solutions (and implement them when they fit). Outside of work, he is involved with open source and community work (like organizing and coaching at the local CoderDojo) and is part of the Nerdkunde podcast.
---
Der Workshop beschäftigt sich z.B mit den zum Teil wenig bekannten Details der Basisprotokolle, mit den Auswirkungen, die sich aus der internen Anwendungsarchitektur für die Gesamtarchitektur ergeben, mit Frontend-Optimierungen und der Einbettung in die Gesamtinfrastruktur aus Standardkomponenten wie Intermediaries und den Invidualbestandteilen. Die Inhalte decken sich mit denen des Präsenz-Trainings. Informationen dazu finden Sie auf der
Übersichtsseite
des Moduls WEB oder im 
Lehrplan
 der iSAQB.
Sie bestimmen den Ort, an dem das Training für Sie stattfinden soll. Unser Trainer ist überall mit dabei. Genießen Sie die maximale Freiheit bei der Wahl Ihres Lernortes.
Technische Voraussetzungen:
Hinweis: Ihre Webcam muss beim Training eingeschaltet sein.
Tägliche Trainingszeiten:
Um einen reibungslosen Ablauf zu gewährleisten, ist es dringend erforderlich, dass Sie am 28. Mai 2020 im Zeitraum von 10:00 bis 11:00 oder 15:00 bis 16:00 Uhr an einem kurzen Technik-Check teilnehmen. Bitte wählen Sie sich hierfür direkt über den Link, den Sie bei der Anmeldung erhalten haben, in Zoom ein und unser Support prüft live mit Ihnen alle technischen Einstellungen. Bei Fragen schreiben Sie einfach an [email protected]
Anmeldung
Kollegenrabatt:

Bei gleichzeitiger Anmeldung von drei oder mehr Kollegen aus einem Unternehmen spart jeder Teilnehmer bis zu 1

00,- €

!