Modul BLOCKCHAIN mit Dr. Lars Hupel
Kompetenzbereich Technik:     20 Credit Points
Kompetenzbereich Methodik:  10 Credit Points
Trainer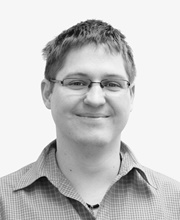 Lars is a consultant at INNOQ in Munich and is known as one of the founders of the Typelevel initiative, which is dedicated to developing type-driven Scala libraries in a beginner-friendly environment. He speaks often at conferences and is active in the Scala open source environment. He also enjoys programming and talking about Haskell, Prolog, and Rust.
---
Der Oberbegriff "Blockchain" beschreibt eine Reihe von aufstrebenden Technologien zur Architektur von verteilten Systemen. Diese sind dadurch ausgezeichnet, dass unter den teilnehmenden Parteien nur wenig Vertrauen herrscht, dabei aber trotzdem Konsens über die gespeicherten Daten und ausgeführten Prozeduren etabliert werden kann. Ursprünglich wurde Blockchain-Technologie für Kryptowährungen benutzt. Mittlerweile haben sich aber zahlreiche weitere Anwendungsfälle aufgetan, in denen eine manipulationssichere, dezentrale Datenablage notwendig ist.
Der Lehrplan des Moduls BLOCKCHAIN wurde von Dr. Lars Hupel selbst mit entwickelt und zeigt ein tiefes Verständnis der zugrundeliegenden Technik auf, um diese dann auf verschiedenste Problemdomänen anzuwenden. Teilnehmer:innen werden in die Lage versetzt, fundierte Entscheidungen zu treffen, ob und welche Blockchain-Technologie für Sie richtig ist.
Anforderungen: grundlegende Kenntnisse in Datenbanken, sowie grundlegende Programmier-Kenntnisse
Sie bestimmen den Ort, an dem das Training für Sie stattfinden soll. Unser Trainer ist überall mit dabei. Genießen Sie die maximale Freiheit bei der Wahl Ihres Lernortes.
Technische Voraussetzungen
Hinweis: Ihre Webcam muss beim Training eingeschaltet sein.
Kollegenrabatt:

Bei gleichzeitiger Anmeldung von drei oder mehr Kollegen aus einem Unternehmen spart jeder Teilnehmer

100,- €

!